Please note: All new registrants to the Panopto Community Forum must be approved by a forum moderator or admin. As such, if you navigate to a feature that is members-only, you may receive an error page if your registration has not yet been approved. We apologize for any inconvenience and are approving new members as quickly as possible.
At Panopto, we love how committed our customers are to making Panopto a better product - please feel free to share your feature ideas or vote on existing ideas in this category!
Before submitting a feature request, make sure to read our
Guidelines & Expectations post
Once your idea is submitted, it will be marked as 'Tracked' when added to our internal feature requests system.
Audio Only Player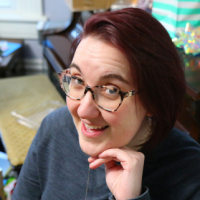 Caitlin McCabe
Administrator
Original Post
Nick Thompson, 3/19/2018 at 1:31 PM
If a student is on the bus, they don't want to waste bandwidth, so they want to listen to only the audio portion of their lecture.
If an instructor is making a language quiz, they want 100 1-second clips and ask the student to translate it. This should not result in a huge empty black video screen for each audio clip.
Response
Unknown user, 3/26/2018 at 5:24 AM
Could the student not download this or subscribe to this as an audio podcast? this is how we encourage people to view the recording if they would like to only use audio only.
Nick Thompson, 3/26/2018 at 5:39 PM
Podcasts do not offer a solution to either of the use-cases. In the first case, we want the audio to be in the context of the course. As they are reading their course page, there are contextual audio clips supporting the course content.
In the second use-case, if they are taking a quiz, for example, downloading all the audio clips does not work when taking a language quiz and being asked to translate 100 different phrases.
Radu N., 7/11/2018 at 5:06 AM
Hi Nick,
Forgive me for re-iterating the podcast suggestion, as I do not see how this does not fit the use case.
In our implementation, when we include the video in the course content, we also include "download mp3 / download" buttons next to it. It therefore sounds to me as if the solution is there for you too, all you need to do is offer all options when you embed the video (embed the video, but also provide a "listen to sound only" button, which links to the "play podcast" output of the session).
Does this make sense?
This would work for your second use case too (as I understand it, but I may be wrong!) - the "Play audio podcast" link from the settings/output page (Panopto/Podcast/StreamInBrowser/[VIDEOIDHERE].mp4?mediaTargetType=audioPodcast rather than simply Panopto/Pages/Viewer.aspx?id=[VIDEOIDHERE])
) would allow the student to play audio only "in place". No?
I am surprised however to see no reply from anyone at Panopto on this. If this "ideas" forum is just a place for us all to vent ... not so useful, I think :)
Hope my explanation makes sense, and if it does not, apologies in advance.
Dave Hannan, 12/17/2018 at 2:59 PM
Hi Nick - Thanks for posting! We definitely agree that this is a useful feature. We're hoping to add this some time in the next 12 months.
-Dave