Please note: All new registrants to the Panopto Community Forum must be approved by a forum moderator or admin. As such, if you navigate to a feature that is members-only, you may receive an error page if your registration has not yet been approved. We apologize for any inconvenience and are approving new members as quickly as possible.
Panopto Community Forum: Ranking & Rewards Program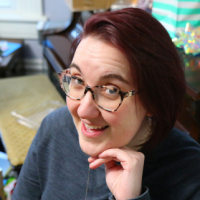 Caitlin McCabe
Administrator
Oh, hello!
You: Actively engaged in our new community. You're posting discussions and feature requests, asking questions, commenting on and reacting to other members' posts - in short, you're a great community member. But you're wondering: is there any way I can score some sweet Panopto swag out of this deal? 
Us: Deeply impressed by your engagement! Like we said in our Community Intro post, we love to see it. So, of course, we're going to hook you up with that swag. Here's how we're going to reward you for being awesome:  
Points. 
Here's how you earn points in our community: 
Post great content: Every time someone reacts to your post, you get a point. If they promote it, you get 5 points. 
Answer questions: If you see a question that you know the answer to - feel free to answer it! Get a point for answering. If your answer is picked as the accepted answer, you'll get 5 points. 
Post a Feature Request: Every time someone upvotes your idea, you get a point. 
Earn badges: Get enough reactions, tag a person in your posts, reach your account anniversary, and achieve some secret (soon to be announced) tasks...earn anywhere between 2 and 50 points! 
Rankings.
Each enough points and level up! Achieve new ranks based on how many points you accumulate. The ranks are as follows:
Level 1 (0 - 49 points): Tyro
Level 2 (50 - 100 points): Crackerjack 
Level 3 (101 - 499 points): Whiz Kid
Level 4 (500 - 999 points): Superstar
Level 5 (1000 … ?? points) : Wizard 
Mystery Levels...to be unlocked! 
Prizes. 
Every time you reach a new level (Level 3 and up), a member of our team will reach out to you about where we can send you some celebratory swag. 
Currently, we offer the following to each rank (pick one):
Level 3 - Whiz Kid: Panopto Glass Tankard, Panopto Film Strip T-Shirt, or a Starbucks or Amazon gift card ($10 USD)
Level 4 - Superstar: Panopto Wireless Earbuds, Panopto Portable Battery Pack, or a Starbucks or Amazon gift card ($30 USD)
Level 5 - Wizard: Starbucks or Amazon gift card ($50 USD)
Once the mystery levels are unlocked, we'll announce the next series of prizes! 
Leaderboards.
Get ahead of your fellow Panopto community forum members and show up on our leaderboards! You'll earn bragging rights when you stay on top of the boards...but stay tuned for special perks (special prizes, giveaways, features, and more)! 
Get started now by adding a comment on this post: Introduce yourself, tell us where you're from, and how you use Panopto! 
Tagged: