Please note: All new registrants to the Panopto Community Forum must be approved by a forum moderator or admin. As such, if you navigate to a feature that is members-only, you may receive an error page if your registration has not yet been approved. We apologize for any inconvenience and are approving new members as quickly as possible.
Welcome to the Panopto Community Forum!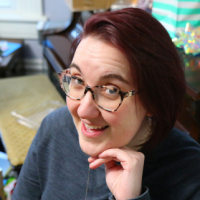 Caitlin McCabe
Administrator
Welcome to the Panopto Community Forum! We're so glad you're here and look forward to connecting with you! To get familiar with how to use the forum, here are a few videos to get you started: 
Once you know how to navigate and use the forum, here are a few rules for engagement: 
Be cool, not cruel: Anything that's deemed hateful, harmful, or harassment will be removed and you will receive a warning (which will come with a temporary block from posting on our site). Repeat offenders will be blocked. 
Keep posts Panopto-focused: Our forum is a dedicated site for users to ask questions and discuss Panopto, and for members of Panopto to connect directly with you. 
React and comment: Did you see an idea or comment thrown out by a fellow community member that you *really* like? Up-vote or react to it - this will guarantee that Panopto staff members will see it, talk about it, and try our best to make it work. Want to add to a feature request or discussion? Comment! We love to see it. 
Subscribe! If you love a Panopto topic, subscribe to it. Arguably the most important subscription is to our Release Notes - where we provide news on our newest releases, updates, and bug fixes.
If you follow these rules, interact with each other, and connect with us, you will earn points and the ability to snag a spot on our leader boards. The same points will help you level up, and every time you reach a new level, we'll celebrate by sending you some sweet Panopto swag!. Learn more about how to get points, prizes, and on our leader boards here: Panopto Community Forum: Ranking & Rewards Program.
If you have questions about our forums, feel free to reach out via direct message on the forum.
Tagged: